Smoked salmon/mackerel pâté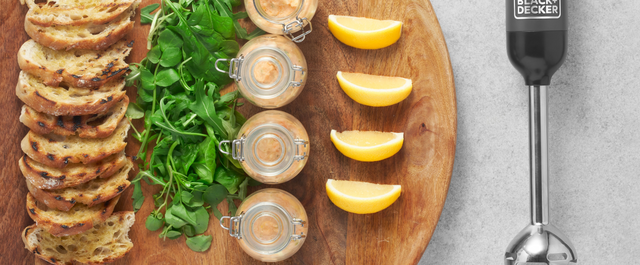 Ingredients
1 ¾ Tablespoons unsalted butter, melted
Zest 1 lemon
200g pack smoked salmon, skinned or smoked mackerel (split fillets), skinned
2 green onions, roughly chopped
1/3 cup cream cheese or crème fraîche
3 teaspoons horseradish sauce
4-5 dashes of Tabasco sauce (optional)
Freshly ground pepper
Crusty bread, to serve
Method
Using the BLACK+DECKER® kitchen wand™ immersion blender attachment, blitz together all the ingredients to make a smooth pâté. Check the seasoning and then spoon into a serving dish or individual pots.
Leave to set in the fridge for at least 1 hour.
Keeps in the fridge for 3 days.
Serve with crusty bread.