Pavlova with roasted figs, honey, rosewater and pistachio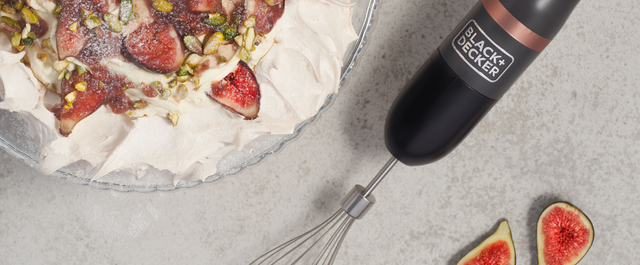 Meringue can be made well in advance.
Ingredients
4 egg whites
1 cup granulated sugar
1 teaspoon white wine vinegar
1 teaspoon corn starch
1 teaspoon vanilla paste
For the topping:
12 fresh figs cut in half
3 tablespoons honey or maple syrup
2 ½ cups heavy cream
3 tablespoons powdered sugar
1 tablespoon vanilla paste
2 teaspoons rose water
5 tablespoons green pistachios
Method
Preheat the oven to 300°F
Using a pencil, mark out the circumference of a dinner plate on baking parchment and put onto a baking sheet.
Using the BLACK+DECKER® kitchen wand™ whisk attachment, whisk the egg whites until they form stiff peaks. Then whisk in the sugar, 1 tablespoon at a time, until the meringue looks thick and glossy.
Whisk in the white wine vinegar, corn starch and vanilla paste.
Spread the meringue inside the circle, creating a crater to make the sides a little higher than the middle.
Bake for 120 minutes, then turn off the heat and let the pavlova cool completely inside the oven.
For the figs:
Preheat the oven to 340°F
In a baking pan add the figs, drizzle over the honey or maple syrup and sprinkle over the teaspoon of rosewater. Bake for 10-12 minutes or until just soft to touch but do not overcook to a mulch. Then leave to cool.
Using the BLACK+DECKER® kitchen wand™ immersion blender attachment, puree 1/3 of the roasted figs to make a coulis. You may need to add a little water to thin it down slightly.
Roughly chop 3 tablespoons of the pistachios. Keep the remaining pistachios whole.
In a large bowl, use the whisk attachment to mix the heavy cream, powdered sugar, vanilla paste and the remaining teaspoon of rose water. Whisk until soft peaks form, being careful not to over whisk.
To serve the pavlova:
Put the pavlova on a large serving plate, then dollop spoonfuls of whipped cream in the center. Top with roasted figs, drizzle with the fig coulis and sprinkle with the chopped and whole pistachios.
Another option:
Try using summer fruits instead of figs. Select 3 cups of whole mixed berries, such as small strawberries hulled, raspberries, blackberries and redcurrants. Whip the cream the same way - with or without the rose water - and dollop the cream in the center. Top with the mixed berries and a good dusting of powdered sugar.