Slow-cooked chilli con carne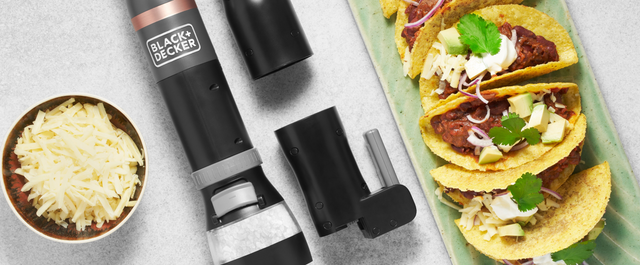 Ingredients
4 tablespoons olive oil
2 lb beef brisket, cut into 1 ½ inch diced pieces
2 onions, finely sliced
2 red bell peppers, diced
8 garlic cloves, chopped
1 teaspoon cumin seeds
5 allspice berries
1 teaspoon coriander seeds
1 teaspoon dried oregano
1 tablespoon smoked paprika
2 bay leaves
1 cup red wine
2 cans chopped tomatoes
2 tablespoons tomato puree
2 tablespoons soft brown sugar
3 tablespoons rice vinegar
2 cups beef stock
2 cans of kidney beans or black-eyed peas
To Serve
½ cup soured cream
¾ cup mature cheddar, grated (or feta cheese, crumbled)
2 avocados, diced
1 red onion, thinly sliced
2 tablespoons fresh coriander, roughly chopped
Rice, tortilla wraps or taco shells
Method
Preheat the oven to 325°F
Heat a small frying pan and add the cumin, allspice and coriander (dry - no oil) and toast for a couple of minutes to release their oils. Take off the heat and let cool completely. Add spices to the BLACK+DECKER® kitchen wand™ spice grinder attachment and grind to a powder.
Place a large ovenproof pot (with a lid) over a medium heat and add the oil. When the oil is hot, add the brisket and brown all over. Then, add the onions, peppers, garlic, oregano smoked paprika, and bay leaves. Fry for 1-2 minutes over a high heat.
Using the wine opener attachment, open the wine and add the measured wine to the seared meat. Bring to the boil, reduce the heat, and cook for 10 minutes until the wine reduces slightly.
Using the can opener attachment, open the can of chopped tomatoes. Add the tomato puree and sugar to the meat. Heat until the ingredients begin to simmer, then add the vinegar and the beef stock (but make sure the level does not rise above the ingredients). Place a lid on the pot and cook in the oven for 3-4 hours until the meat is tender and you can pull it apart with a fork. Once cooked, shred the brisket, and stir well.
Serve it with the above ingredients of your choice.