DIY wood silverware caddy
Skill Level: Beginner | Estimated Time: 2 hours 
Impress your friends and family this holiday season by serving your silverware in a rustic, handmade silverware caddy. 
Your guests won't have to hunt through kitchen drawers for utensils, and you'll have the chance to showcase your versatile woodworking skills. 
Step by Step Instructions
Step 1. Cut the Wood Pieces
Using your BLACK+DECKER 20V MAX* 5-½ in. Circular Saw, measure and cut the following pieces to construct your silverware caddy:  
(2) 15" pieces from the 1 x  6 whiteboard 

 

(1) 15" piece from the 1 x 4 whiteboard

 

(4) 4 ¾" pieces from the 1 x 4 whiteboard

 
Step 2. Predrill All Holes (optional)
Because this project requires driving screws close to the wood's edge, you'll want to predrill all holes to avoid the frustration of splitting the wood and ruining your caddy mid-project. Use a drill bit a size smaller than the screws to create pilot holes for all your joints. 
Step 3. Create the Sides
Align the two 15" pieces of 1 x 6" whiteboard vertically on either side of the 15" piece of 1 x 4" whiteboard. These will serve as the walls of the silverware caddy. Predrill your holes before securing with wood screws in each corner.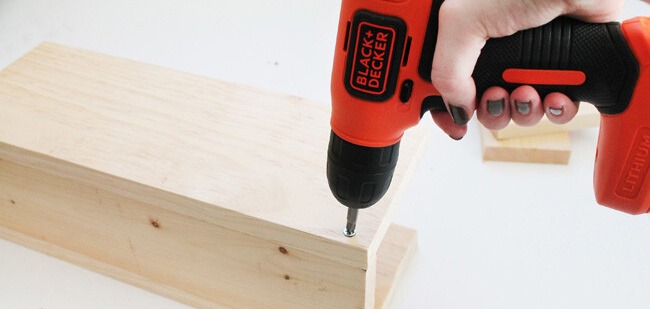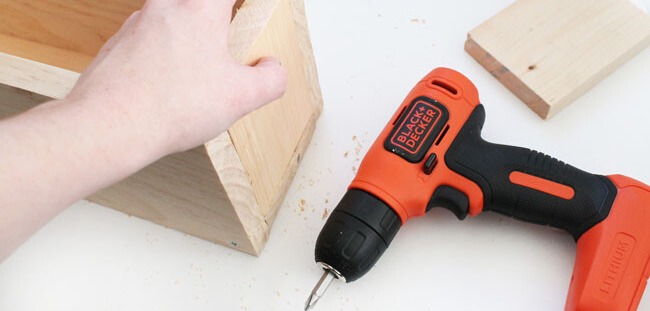 Step 4. Create the Ends
Line up two of the 4 ¾" pieces on either end of the container, ensuring all edges are flush. Predrill the holes from the outside of the side walls, into the end pieces at the top corners and through the bottom center. 
Step 5. Secure the Ends
Using your predrilled holes as guides, secure the end pieces at each top corner and through the bottom center with a BLACK+DECKER 8V MAX* Cordless Lithium Drill and three 1" wood screws. 
Step 6. Add the Dividers
Use a measuring tape to distribute the two remaining 4 ¾" pieces evenly inside the container before marking with a pencil. These will serve as dividers in the interior of the caddy. Predrill pilot holes through the sides of the caddy at the top and bottom of the insert.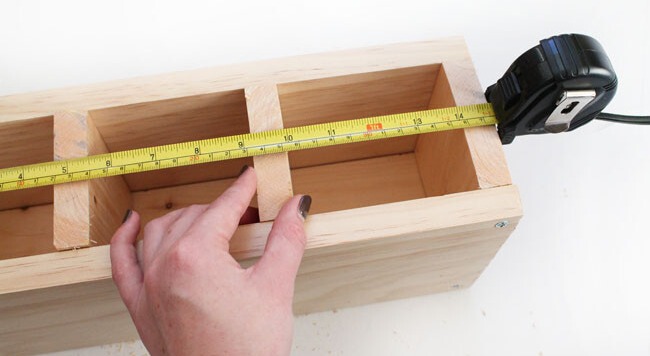 Step 7. Secure the Dividers
Secure each insert with four wood screws using your pilot holes as guides. 
Step 8. Sanding + Fine-Finishing
Eliminate any uneven edges or saw marks with your BLACK+DECKER MOUSE® Detail Sander. Start with a coarse or medium grit to sand down rough wood ends, and finer grit to prep your wood for staining. Wipe down your project with a damp rag before applying a stain or finish.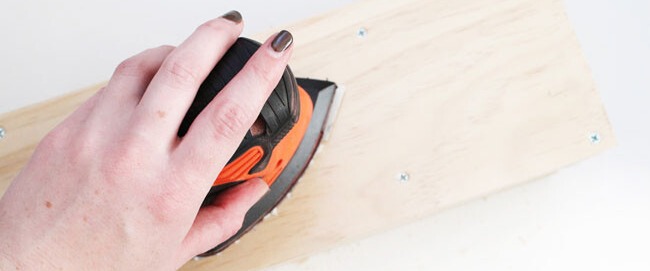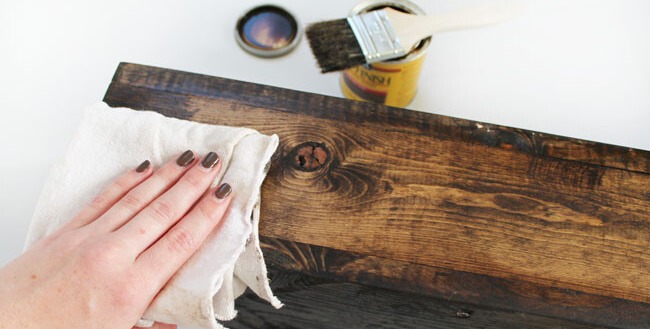 Step 9. Apply Wood Stain + Varnish
Brush on your choice of wood stain with a clean paint brush, and rub off any excess with a rag. Work on one side at a time, and don't neglect the interior compartments. Re-apply the stain until you reach your desired shade, or re-sand in spots to create a distressed, barn-wood look. After your stain has dried, apply a coat of varnish to seal the wood. Allow it to cure overnight. 
Tips: 
Set up your staining station in a well-ventilated area covered with scrap paper or drop-cloths. 
To eliminate any residual fumes from the stain and varnish, let your silverware caddy air outside for a few days before use. 
Step 10. Attach the Handles
Allow your finish to dry for 24 hours. Measure and mark your holes on either side of the silverware caddy before securing the handles with screws. Decorative drawer pulls are sold in most home-improvement stores and come in thousands of styles and finishes. Choose a pair that adds functionality and charming detail to your finished product. 
Tip: Customize the size and stain to suit your needs, or turn the caddy into an impromptu centerpiece by filling the compartments with seasonal floral arrangements or votive candles. 
Step 11. Style with Napkins + Utensils