DIY scrabble love tiles
Skill Level: Beginner | Estimated Time: 2 hours 
Make a thoughtful gift for your valentine this year, and spell out a special message in giant, wooden tiles. 
This quick DIY project is great for using up scrap pieces of wood and is easily customizable to create other words or monograms. 
Step by Step Instructions
Step 1. Measure + Cut the Wood Squares
Use a carpenter's square to measure and mark eight 7 ¼" square pieces of wood. Cut out the squares with your BLACK+DECKER 4.5 Amp Jigsaw. If you're using scrap lumber, simply measure the width of the board and mark square pieces for your tiles.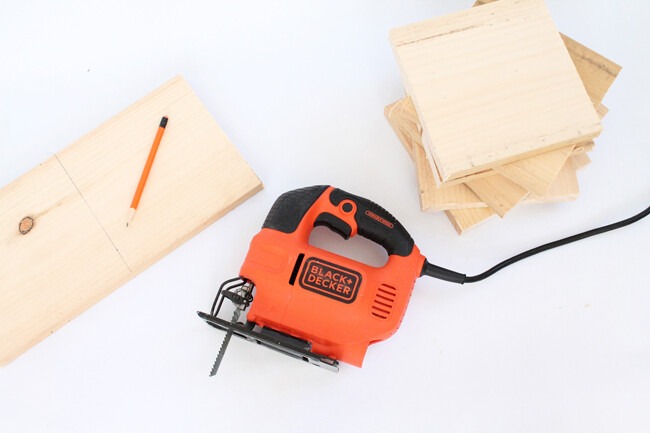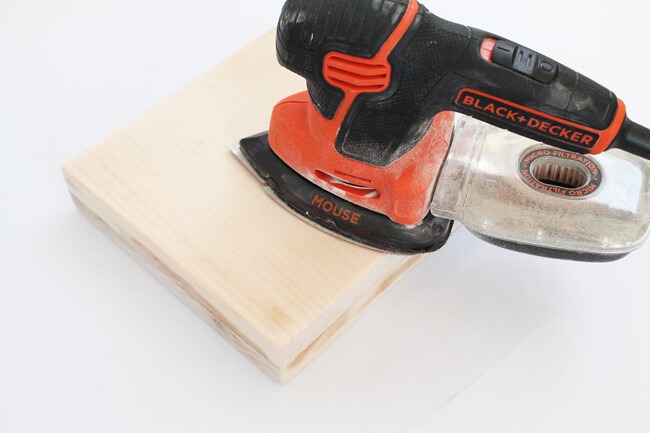 Step 2. Glue + Clamp the Square Pieces
If you're using 1 x 8 lumber to create your tiles, gluing the pieces together will create a thicker block of wood that can stand upright easily. If you're using thicker scrap wood, you may not need to glue pieces together. Apply wood glue to two square pieces, press them together, and adjust until all of their edges are flush. 
Apply two clamps to each block and allow them to dry overnight. 
Step 3. Sand the Glued Tiles
Sand the edges and faces of each tile smooth with the BLACK+DECKER MOUSE® Detail Sander, taking particular care to keep the edges square and to grind down any unevenness resulting from cutting and gluing. Start with coarse 80-grit sandpaper, and then finish with fine 120-grit sandpaper. 
Step 4. Trace + Paint Letters + Numbers
Print out the letters (400 font size) and letter values (96 font size) to complete your word of choice (this example uses the word "love"). Center each printout on a tile. Letters should be 1"-2" from the top and bottom of the tiles. Trace the letters by pressing firmly with a sharp pencil to etch the letters into the wood. 
Remove the paper and use a straightedge to follow the etch lines with your pencil. Use the same method to trace small point numbers in the bottom, right-hand corner of the tile. Point numbers should be about 1" tall and ½" from the corner edges. Apply black paint with a small paintbrush to your letters and shapes. Work in small strokes to keep the edges clean and straight. 
Tip: Arial works great as a classic font. Letters should appear in all caps. You can find letter values charts online. 
Step 5. Complete Tiles
Apply a few coats of clear spray varnish to seal your tiles if desired. Or, leave the sanded wood unfinished to achieve the authentic look of the classic board game. Set up your tiles on a shelf as a sweet, handmade surprise for your valentine.