Hanging Rack System - Shelf With Door W/Brackets (T)
BDSTKT282BK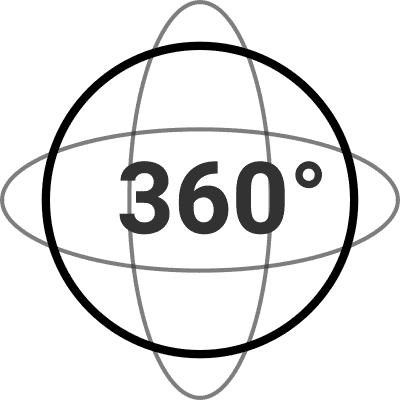 Hanging Rack System - Shelf With Door W/Brackets (T)
BLACK+DECKER® hanging rack system is heavy duty, multi-purpose and perfect for any home or office.
Organize clutter with the new BLACK+DECKER Hanging Storage System. Get the most from your unused wall space or the side of your fridge by customizing your storage system. The BLACK+DECKER Hanging Storage System is designed with interlocking brackets that easily click together for a custom fit that best fits your space and organizational needs. Use one module in small spaces or connect as many as you need to fill a space that needs organization. Each module includes two options for installation: magnetic or wall mounting. Choose between two colors to match your space. Easily organize your most used items in the kitchen, foyer, bathroom, laundry room, craft room, and beyond.

BUILD YOUR OWN HANGING STORAGE SYSTEM: Compatible with other modules in the BLACK+DECKER Hanging Storage System. Customize your organization to fit your space and your needs.
TWO INSTALLATION OPTIONS: Module has magnetic back and can also be installed with screws.
BAMBOO CUBBY: Magnetic, bamboo door on module for tucking away smaller items.
STYLISH FINISH: Lightly textured black matte finish with bamboo accents.

Battery Included:

No

Cordless vs Corded:

Cordless

GTIN:

00885911879910

Power Type:

NON-ENERGY USING

Product Application:

Cleaning

Height:

11.370 IN

Length:

4.500 IN

Weight:

4.6 LB

Width:

5.5 IN

Watt Hours:

0

Includes:

Includes: (1) Shelf With Door Module (2) Hook Brackets To Hold The Bamboo Dowel. (3) 'S' Hooks (2) Module Connector Brackets(2) Drywall Screws (2) Drywall Anchors
Tech Specs
Comparison Chart
Reviews
FAQ
Keep Shopping
Products Made Easy By Design™️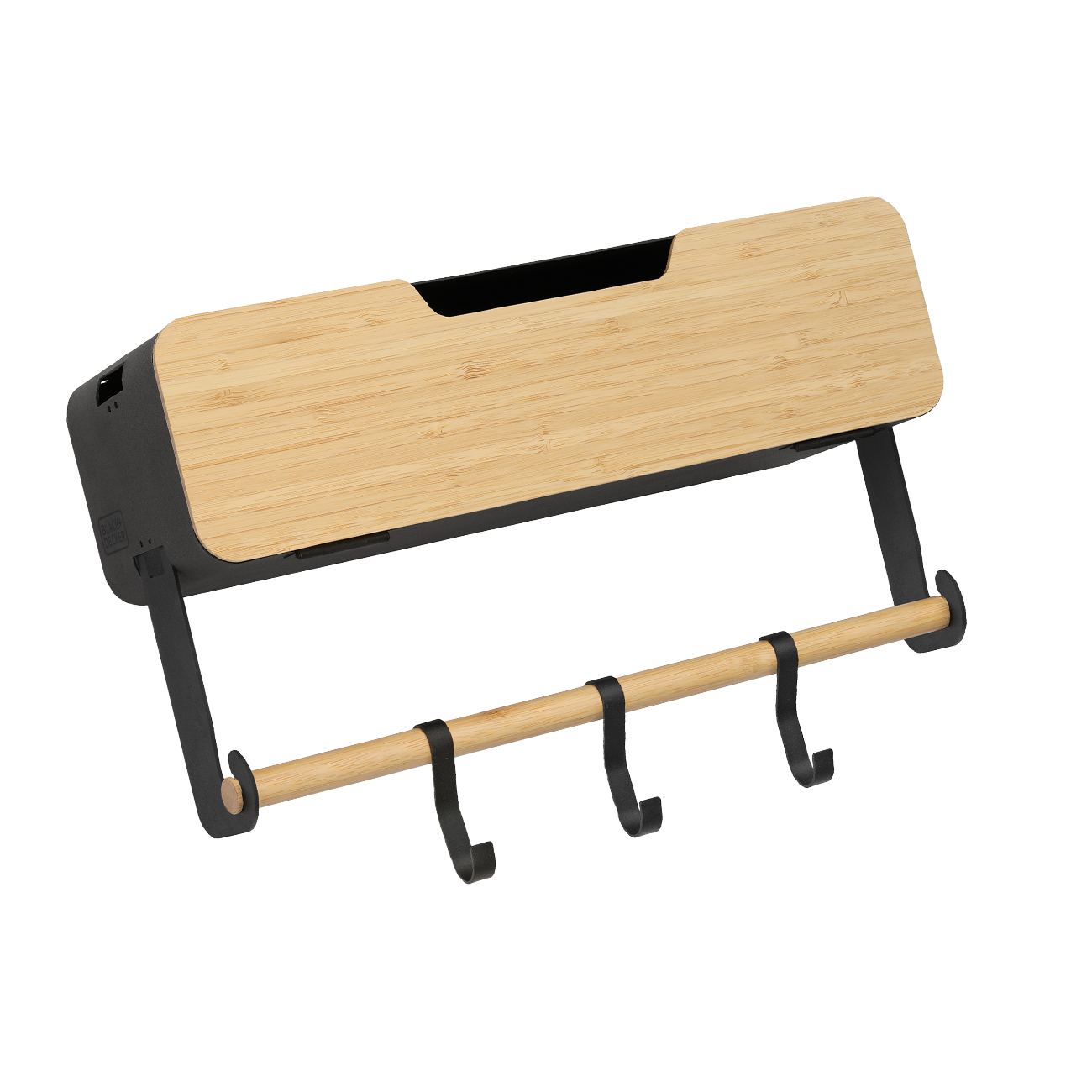 Sleek design
This rack has a modern look displaying lightly textured black matte finish with bamboo accents.
Build your own hanging storage system
Works with other BLACK+DECKER® hanging storage system modules, allowing you to make your set up personalized to your space.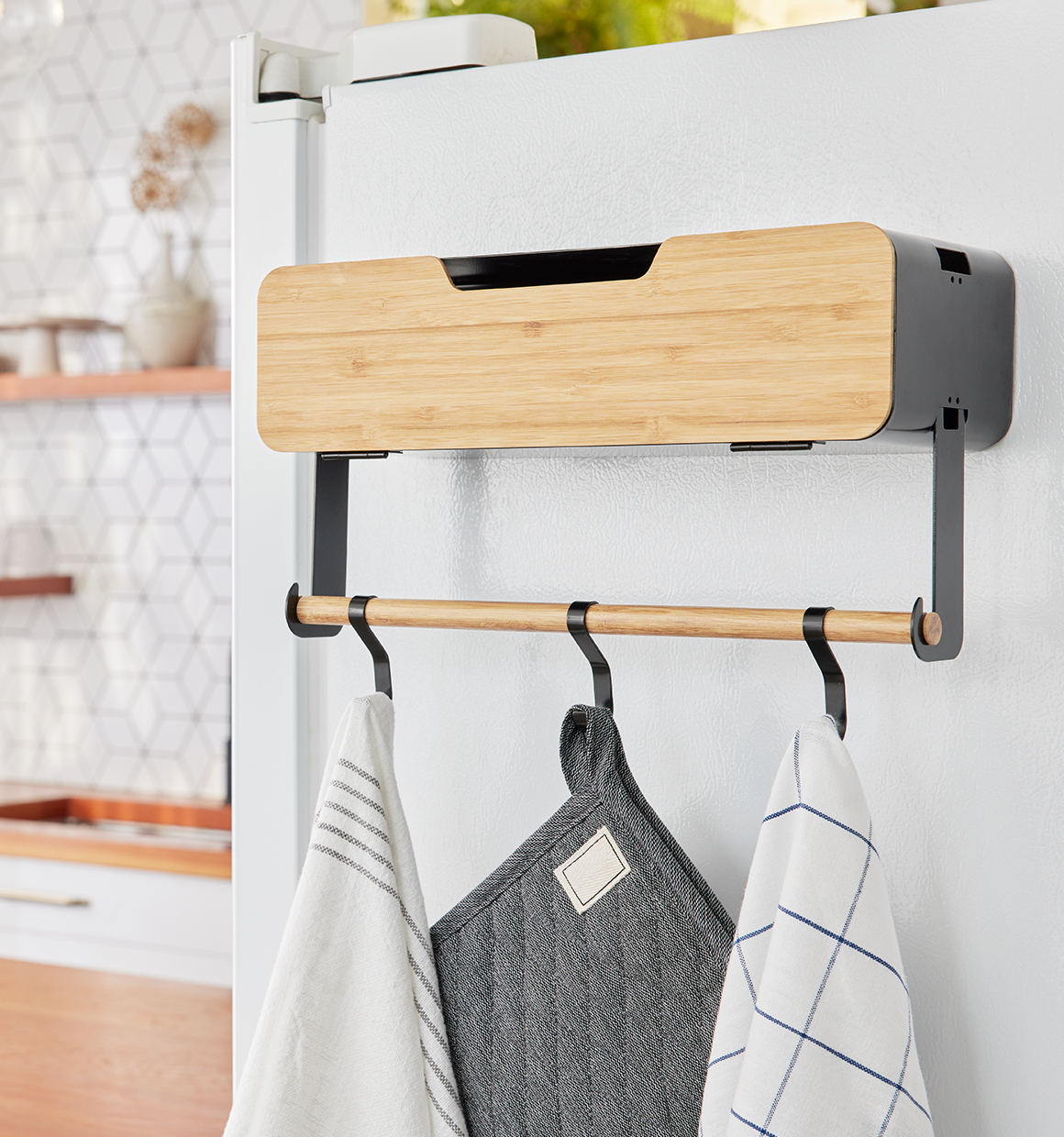 Fast Installation
Choose between magnetic or wall mounting for quick hanging.
Utilize empty space
The hanging storage system snaps together to provide a personalized fit for empty wall space or even the side of your refrigerator.
Easy organization
Utilize this system to neatly store your most frequently used objects in the kitchen, bathroom, laundry room, craft room, and beyond.