MATRIX™ 20V MAX* Buffer Kit with Battery and Charger Included
BCBMT120C1FF
MATRIX™ 20V MAX* Buffer Kit with Battery and Charger Included
Free Shipping + Free Returns when you purchase from blackanddecker.com
BLACK+DECKER® MATRIX 20V MAX* buffer kit is part of the MATRIX™ Quick Connect family of products. The random orbit motion functions at 3500 rpm. Battery & charger Included.
BLACK+DECKER® MATRIX™ Quick Connect system is the ultimate multi-tool; with a patented ability to convert into different power tools using interchangeable heads. The versatile and compact design makes it a great option for home repairs and DIY hobbies. With up to 15 attachments to choose from, the system can be expanded to suit project needs. The compact system can be neatly stored away in one of several MATRIX™ storage options available. Part of the BLACK+DECKER® 20V MAX* POWERCONNECT™ BATTERY SYSTEM – Interchangeable battery system means you can use one battery for multiple different tools.. One battery system, endless possibilities

BUFFING WITH EASE: Comes with the cordless MATRIX™ power unit and buffer attachment, great for polishing cars, floors, furniture, boats and other surfaces that could use an occasional shine.
SWIRL-FREE FINISH: Random orbital motion allows users to easily wax without damaging the surface. 3500 RPM max
ULTIMATE MULTI-TOOL: The MATRIX™ system is designed to expand with your DIY needs. 15 different attachments available.
QUICK AND EASY: MATRIX™ Quick Connect System allows you to quickly and easily change out heads to complete your projects faster
SAVE MONEY + SPACE: The MATRIX™ system is more cost effective and saves more space in your home than dedicated power tools
ONE SYSTEM, ONE BATTERY: POWERCONNECT™ battery system powers your DIY projects with the same 20V MAX* battery (Maximum initial battery voltage measured without a workload is 20V MAX*. Nominal voltage is 18V MAX*)

Battery Type:

20V MAX* Lithium Ion

Battery Amp Hours:

1.5 Ah

Cordless vs Corded:

Cordless

GTIN:

00885911782517

No. of Batteries Required:

1

Power Type:

ELECTRICITY

Product Application:

Cutting

Height:

10.1 IN

Length:

10.7 IN

Weight:

4.2 LB

Width:

6.3 IN

Voltage:

20 V

Watt Hours:

30

Includes:

Bdcdmt120Wc1 Matrix 20V Max Power Unit. Bdcmtb Buffer Attachment. 6" Wool Bonnet. 20V Max Lithium Ion Battery. 20V Max Charger
* Maximum initial battery voltage (measured without a workload) is 20 volts. Nominal voltage is 18
Discounts apply to select products only, for a limited time. Valid only on www.blackanddecker.com, and in the U.S. only; does not apply to purchases made from other retailers.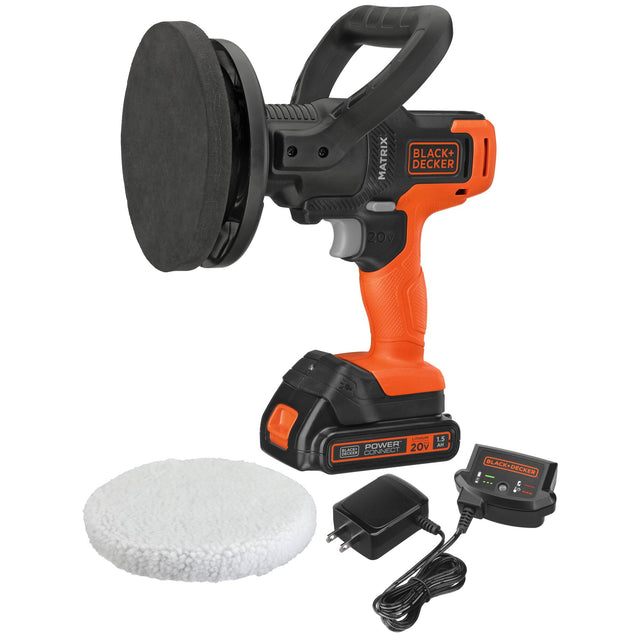 Tech Specs
Comparison Chart
Reviews
FAQ
Keep Shopping
Make it shine
Click and go
Need a polish? Connect the Matrix™ buffing attachment to the cordless Matrix™ tool base and make it shine.
Swirl-free finish
Random orbital motion buffs without surface damage.
Power pack
Includes Matrix™ base, buffing attachment, 20V MAX* battery, and charger.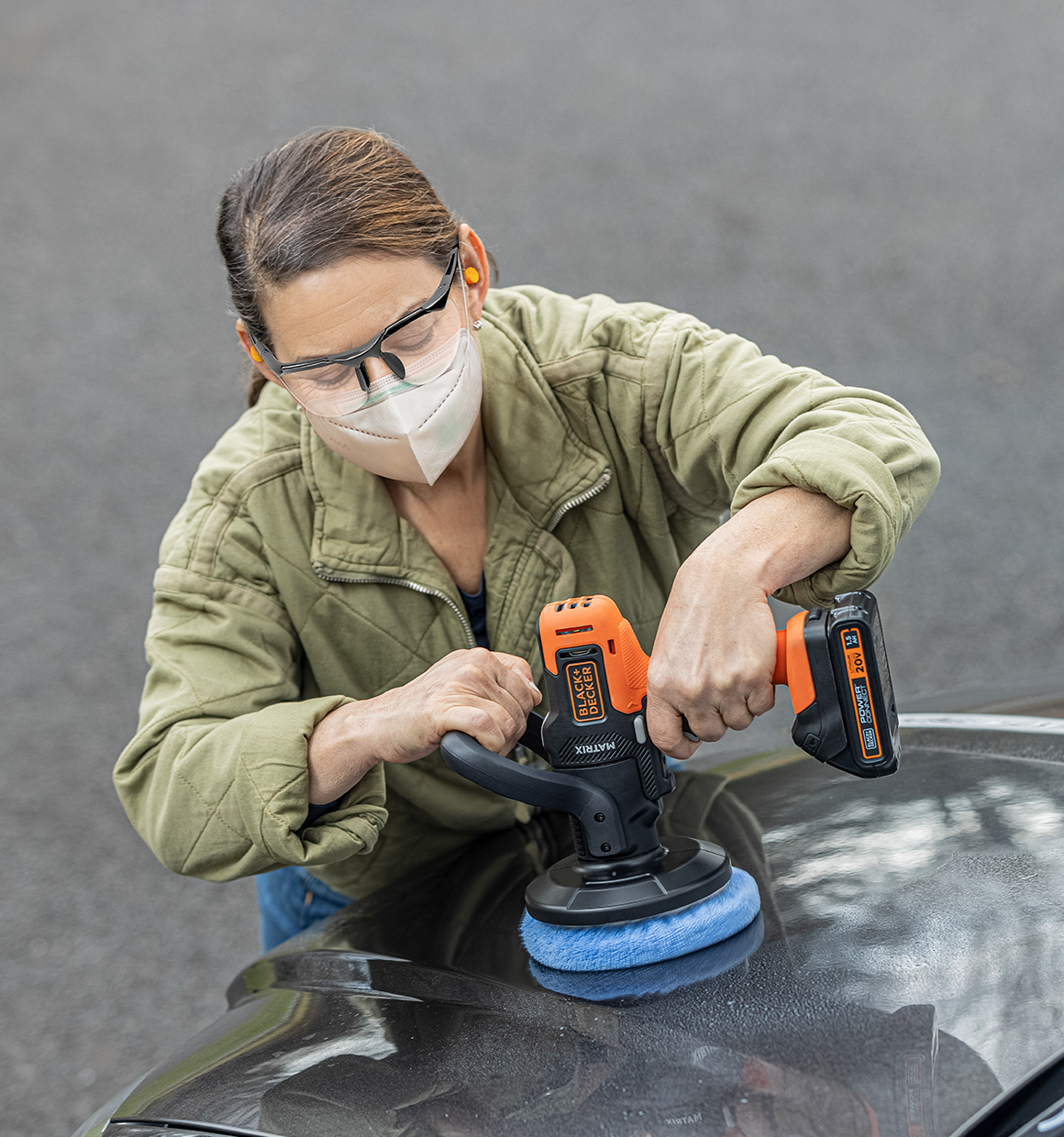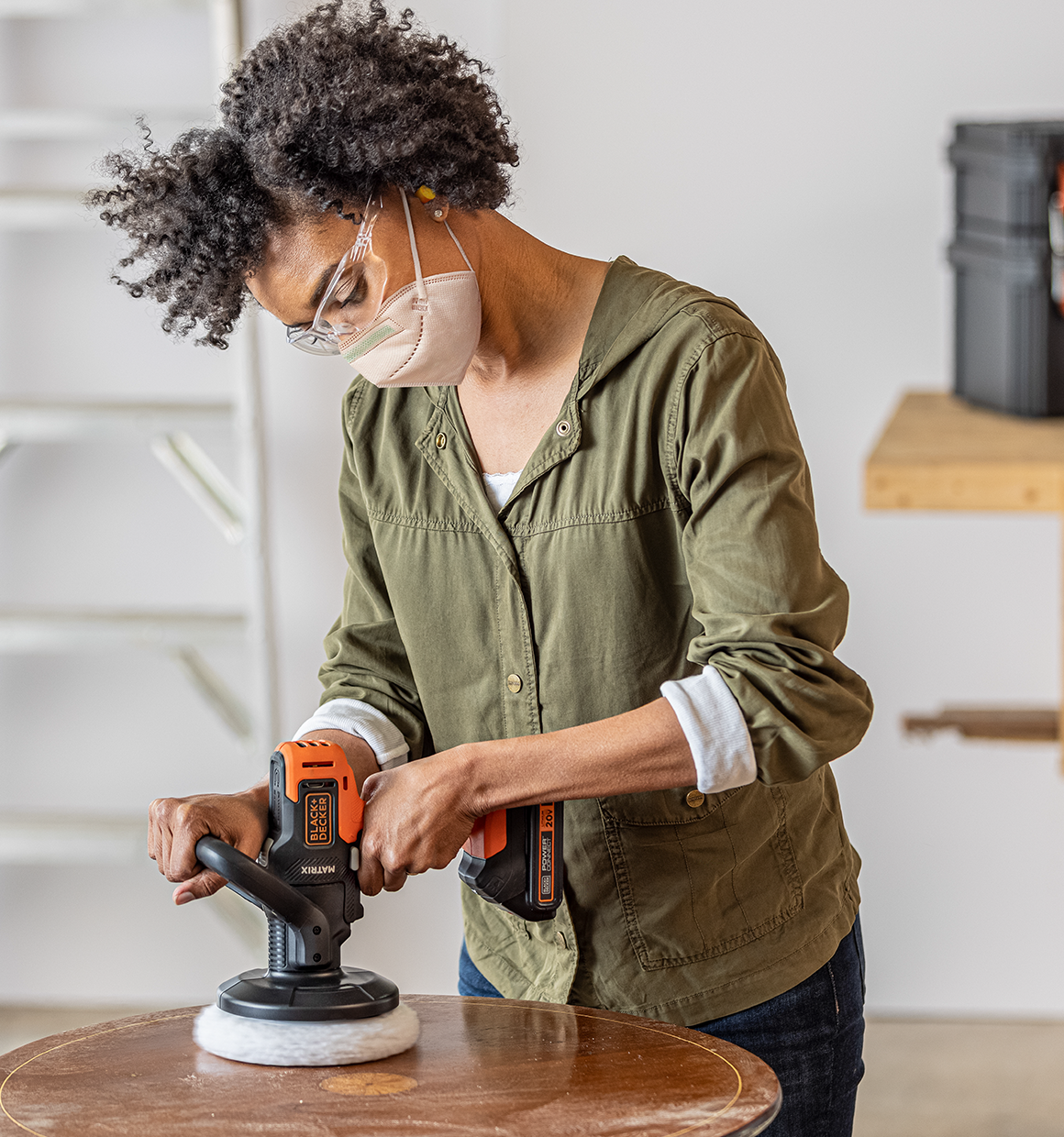 Buff with ease
From cars and boats to floors, furniture, and more, the Matrix™ buffer attachment is up for the task.
POWERCONNECT™ system
Part of the POWERCONNECT™ system. Uses the same interchangeable battery (not included) as all 20V MAX* tools.