Terms of Sale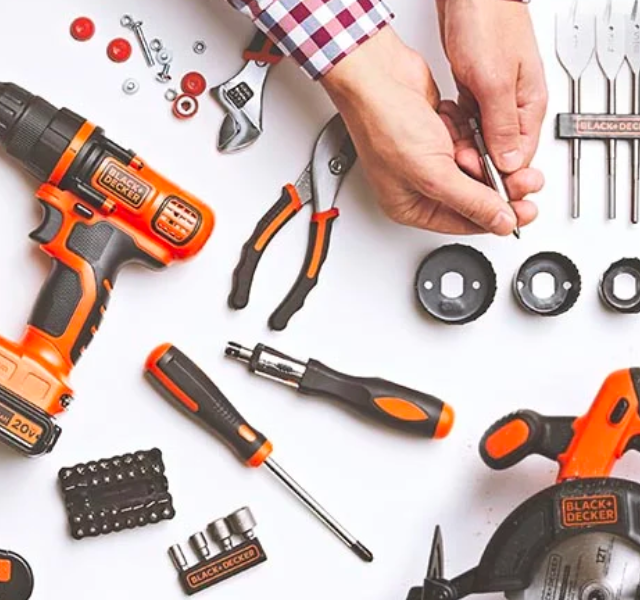 The blackanddecker.com 
Site 
Terms and Conditions of Sale 
Effective: November 15th, 2022 
By placing an order on the blackanddecker.com site ("Site"), you agree to the terms and conditions below (the "Terms"). The Terms will govern orders placed on this site and will constitute an agreement between Stanley Black & Decker, Inc., including all of its subsidiaries and affiliates (collectively "BDUS", "Company" or "we"), as the seller and you as the purchaser of Products sold on this site (the "Products"). Company reserves the right to change these terms and conditions at any time, without notice.  
These Terms govern the sale of Products, services and or applications sold on or via the blackanddecker.com Site, including, without limitation, the blackanddecker.com shopping platform and online ordering tools ("Applications") (collectively, the "Services").    
Order Acceptance; Cancellation: 
The receipt of an order confirmation does not constitute the acceptance of an order or a promise to fulfill your order. Verification of information including the processing of your data, may be required prior to the acceptance of an order. Company reserves the right, without prior notification and at its sole discretion, to limit orders to a maximum dollar value or maximum quantity per Product whether disclosed or undisclosed to you, and to refuse or cancel any order for any reason.  If we do cancel your order, we will refund you any amounts that you have been charged.  
While we will use our best efforts to fulfill all orders, we cannot guarantee the availability of any particular Product displayed on this Site. Company reserves the right to discontinue the sale of any Product listed on this Site at any time without notice. 
Users can cancel orders placed on blackanddecker.com within 30 minutes after the order has been placed. Please visit the FAQ section for more information regarding cancelling orders.   
Prices and Payment Terms:
Prices quoted on the Site are valid only for the Product offered on the Site. Prices do not reflect current pricing listed on any other Company website or third-party e/retailer. Company reserves the right to make changes to Product pricing without notice. Unless otherwise stated by Company, prices are those in effect at the time of site access. Product prices offered on this Site may vary from other advertised prices due to varying conditions in different geographic markets. The prices displayed on this Site are quoted in U.S. dollars and are valid and effective only within the United States, and such prices do not include shipping and handling or sales taxes, if applicable, which will be added to your total invoice price. You are responsible for the payment of any shipping and handling charges and state and local sales or use taxes that may apply to your order. 
Payment methods accepted on blackanddecker.com include credit cards and third-party payment applications. Please refer to our FAQ section to find our latest payment options. 
While our goal is a 100% error-free Site, we do not guarantee that any content is accurate or complete, including price information, quantity count, and product specifications. If we discover price errors, they will be corrected on our systems, and the corrected price will apply to your order. Company reserves the right to revoke any stated offer and to correct any errors, inaccuracies or omissions (including after an order has been submitted and accepted).  
Shipping and Delivery: 
Company is not responsible for any errors, omissions or misdirected or lost orders, or orders which may be delayed. Any delivery dates we provide you either on the Site or in any communications (e-mails, order confirmations, etc.) are estimates only. Please review the additional information regarding our shipping policy in our FAQ section. 
The Products are intended for sale in the United States only, and accordingly, we will only ship to addresses within the United States. You agree to comply with any U.S. or foreign laws relating to the export, re-export, transfer or resale of the Products. 
General Warranty Statement:
The Products sold on blackanddecker.com may include licensed products of third-party manufacturing/distributor partners of Company. Company is not liable or responsible for product performance claims or fulfillment of manufacturer warranty claims for any Product for which Company is not the original manufacturer. 
The Products listed on this Site are provided "as is" and "as available" subject to any warranties that expressly accompany the Product or any service.  
Title and Risk of Loss:  
Any purchase made on the Site is subject to third-party shipping terms and conditions. Any risk of loss and title for the goods and products passes to You as the purchaser when Product is delivered to carrier. 
Returns; Damaged Products: 
Users can return items ordered on blackanddecker.com within 60 days after the order is placed only upon advanced approval from Company's Customer Service Department. If approved, returns must be in the Company's sole judgement, new, un-used and in good condition or will not be accepted. For additional information regarding returns please visit our FAQ section.
Safety

:

 
Customer is responsible for adhering to all published safety manuals including appropriate use instructions and is responsible for reviewing any personal protective equipment instructions including on or with any products.  
End-Users Only:
blackanddecker.com is intended only for end-user customers who will use Products for personal, household, family, or bona fide business use. If we determine that you are in the business of reselling products, then, in addition to any other remedies available to us, we may charge you for the full amount of any promotional value or rebate that was applied to the purchase or granted to you at any time after the purchase. 
Customer Service:
If you have a question or complaint regarding the Products or Services, please contact blackanddecker.com Customer Service Team through chat, web form, email, or phone. For additional information, please visit FAQ section. Please note that e-mail communications will not necessarily be secure; accordingly, you should not include credit card information or other sensitive information in your e-mail correspondence with BDUS.  
Scope of these Terms and Conditions and Miscellaneous:
Unless otherwise agreed to in writing, this will constitute the entire terms and conditions ("Terms") upon acceptance of any order, regardless of the terms, stipulations, etc. in any request for quotations, or as may appear in any order from now or later submitted by the buyer ("Buyer"). Buyer shall not assign any of its rights or delegate any of its obligations under these Terms or an order without the prior written consent of BDUS. Any purported assignment or delegation in violation of the foregoing is null and void. No assignment or delegation relieves Buyer of any of its obligations. If any term or provision of these Terms is invalid, illegal, or unenforceable in any jurisdiction, such invalidity, illegality or unenforceability shall not affect any other term or provision of these Terms or invalidate or render unenforceable such term or provision in any other jurisdiction.  Buyer shall comply with all applicable laws, regulations and ordinances. Buyer shall maintain in effect all the licenses, permissions, authorizations, consents and permits that it needs to carry out its obligations in connection with these Terms or an order. These Terms and any Order will be governed by and construed in accordance with the local laws of the State of Connecticut, USA, without regard to conflicts of laws principles. The United Nations Convention on Contracts for the International Sale of Goods shall not apply to these Terms. If any dispute occurs between the parties arising out of or relating to these Terms the respective rights and responsibilities hereunder, the matter is to be settled and determined by arbitration. The arbitration shall be administered by JAMS pursuant to its Comprehensive Arbitration Rules and Procedures then in effect. The decision and award of the arbitrator shall be final, and binding and the award so rendered may be entered in any court having jurisdiction thereof. The arbitration shall be held, and the award shall be deemed to be made in the city of Hartford, Connecticut, United States of America.