bev by BLACK+DECKER™ cordless cocktail maker
BCHB101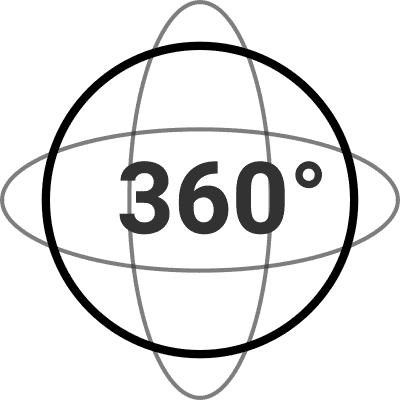 bev by BLACK+DECKER™ cordless cocktail maker
Free Shipping + Free Returns when you purchase from blackanddecker.com
Delicious cocktails and mocktails can be made effortlessly with the bev by BLACK+DECKER™ cordless cocktail maker.  This unit is cordless so you can set it up in a convenient location to enjoy on your own or while entertaining guests without the hassle of a cord.
Mix the delicious cocktails and mocktails you love, but now without the cord thanks to the bev by BLACK+DECKER™ BLACK+DECKER® cordless cocktail maker. Enjoy cocktails at BBQs, block parties, tailgates, and more without being constrained by outlet locations and extension cords. When at your home bar, you can still power your machine using the AC cord which also charges the battery. Choose from 50+ compatible Bartesian capsules** that contain real juices, extracts, and bitters to make drinks in seconds using your favorite vodka, tequila, whiskey, gin, and rum***. Select your drink strength, from mocktail to strong to suite your taste. The cocktail maker dispenses the right amount of each ingredient to make you the perfect cocktail every time. Liven up festivities by setting the color of the lights that flash beneath the bottles when dispensing liquor. The upgraded lights also make for a more colorful Party Mode when selected. Now, you have a personal bartender at home AND wherever the party takes you. 21+ | Please drink responsibly

PORTABLE: Thanks to the included battery, take your cocktail maker wherever the party is without worrying about nearby outlets or cumbersome extension cords. Plus, you can still power the machine using the AC power cord; a great option when used on your counter or bar cart. (Battery charges in the machine while plugged in.)
CORDLESS RUNTIME: Makes over 250 drinks per charge†
DELICIOUS COCKTAILS IN SECONDS: Make mixologist-crafted cocktails from the comfort of your own home in three easy steps: 1) Insert cocktail capsule; 2) Select drink strength; 3) Press mix and enjoy!
50+ COCKTAILS: Choose from a growing assortment of freshness-dated Bartesian cocktail capsules** containing real juices, extracts, and bitters.
ENHANCED PARTY MODE: Match your décor or party theme with a rainbow of colors that light under the bottles and digital display
CHOOSE DRINK STRENGTH: Select your drink strength with the turn of a dial. Choose from mocktail, light, regular, and strong
EASY-LOAD LIQUOR SYSTEM: The cocktail maker connects directly (no-decanting) to five standard 750 ml bottles***, loaded upright, so you can drink and display the brand of vodka, tequila, whiskey, gin, and rum of your choice
SELF-CLEANING: The cocktail maker self-rinses after making each drink and the cleaning mode offers an even more thorough cleaning (recommended every 30 days)

Battery Included:

Yes

Battery Qty:

1

Battery Type:

20V MAX* Lithium Ion

Battery Amp Hours:

1.5 Ah

Charger Included:

Yes

Charger Type:

Wall Mountable Charging Base

Charge Time:

60

Cordless vs Corded:

Cordless

GTIN:

00885911825078

No. of Batteries Required:

1

Product Application:

Cleaning

Height:

16.2 IN

Length:

18.7 IN

Weight:

20.0 LB

Width:

16.8 IN

Voltage:

20 V

Watt Hours:

30

Includes:

(1) Cordless Cocktail Maker. (1) Straws. (1) Water Bottle. (1) 20V Max* 1.5Ah Battery - Lbxr20. (1) Charger
*With a fully charged 20V MAX** 1.5Ah battery (LBXR20 included) using a Bartesian Long Island Iced Tea capsule (sold separately) with the drink strength set to regular.,*Maximum initial battery voltage (measured without workload) is 20 volts. Nominal voltage is 18 volts,**Bartesian cocktail capsules sold separately,***Liquor not included
Glass Liquor Dispenser Bottles sold separately
Tech Specs
Comparison Chart
Reviews
FAQ
Keep Shopping
Mix up any occasion™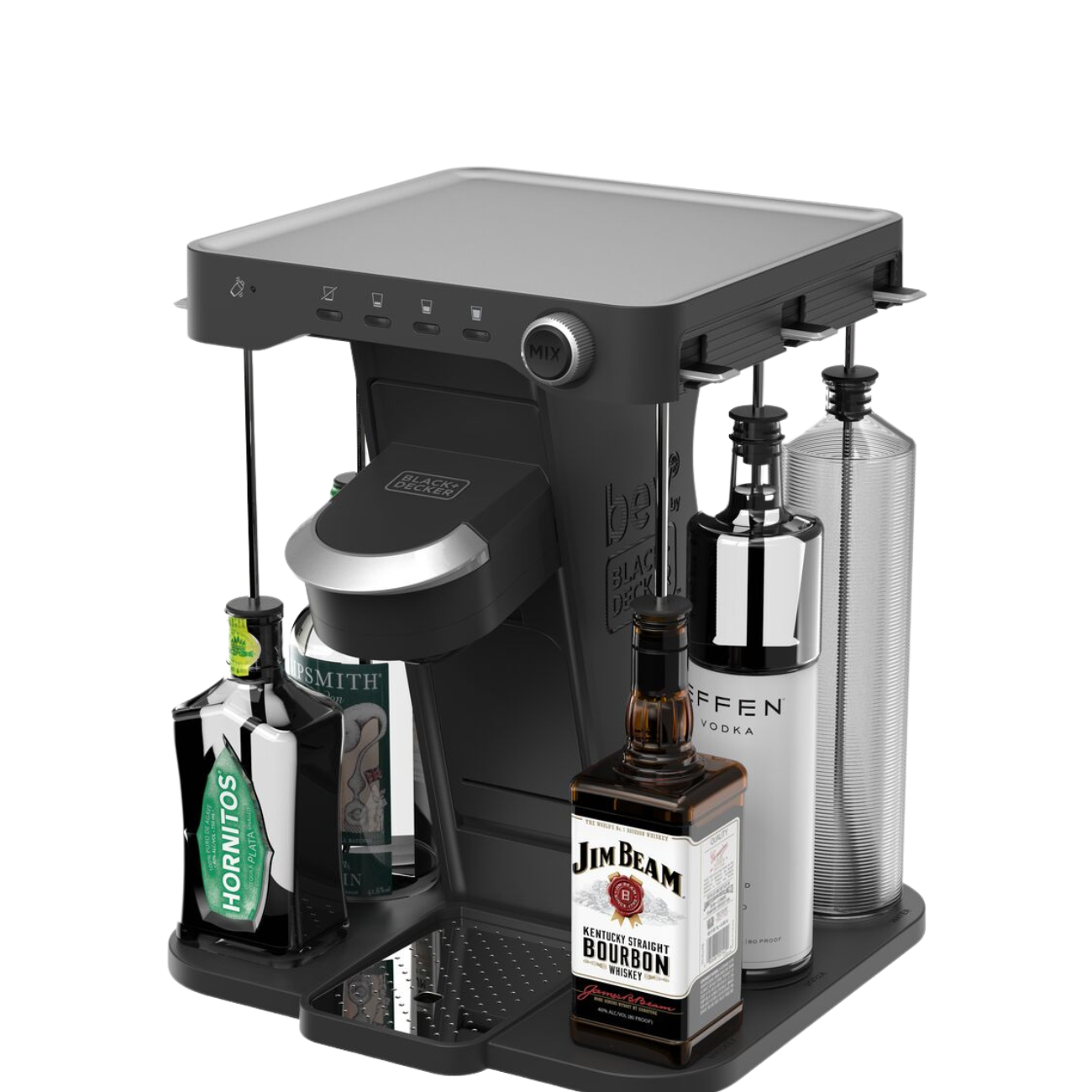 Perfect cocktails
With the bev, you're seconds away from perfect cocktails — without leaving home.
Award-winning
Popular Mechanics 2022 Gadget Award winner for best cocktail machine in North America.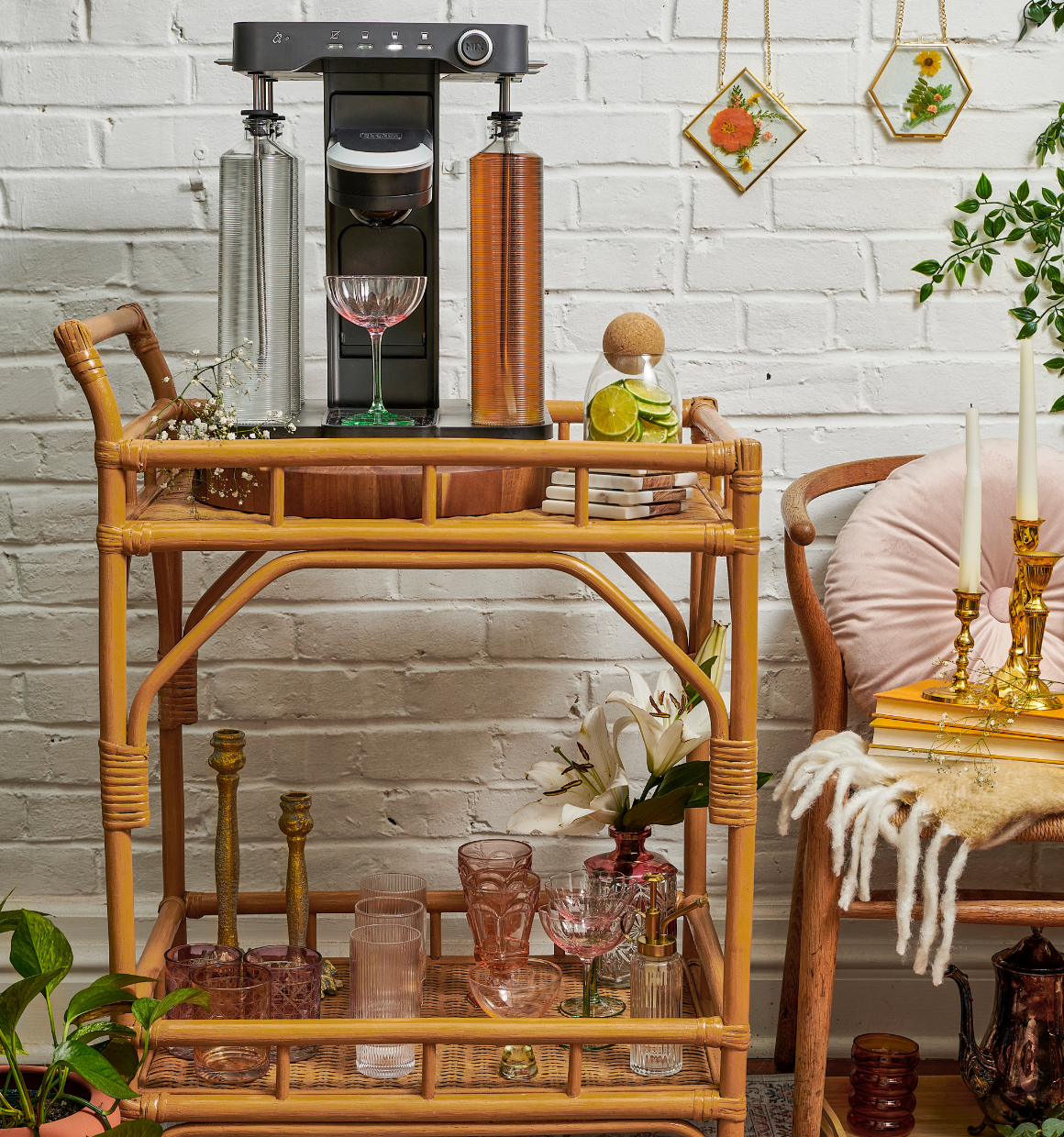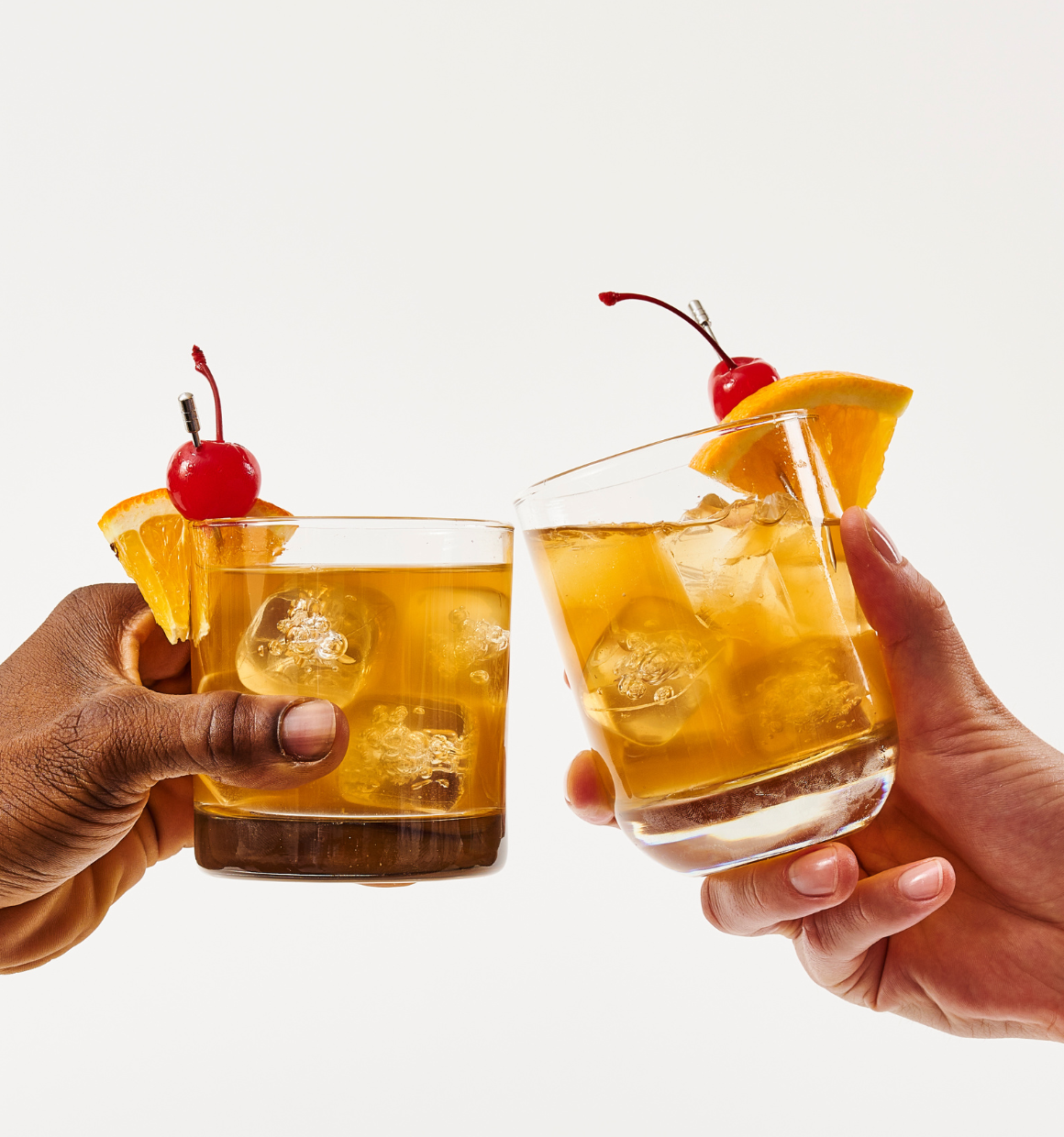 Your personal bartender
The bev makes entertaining simple. No need to go out for drinks. Bring the bar to you—and the bartender.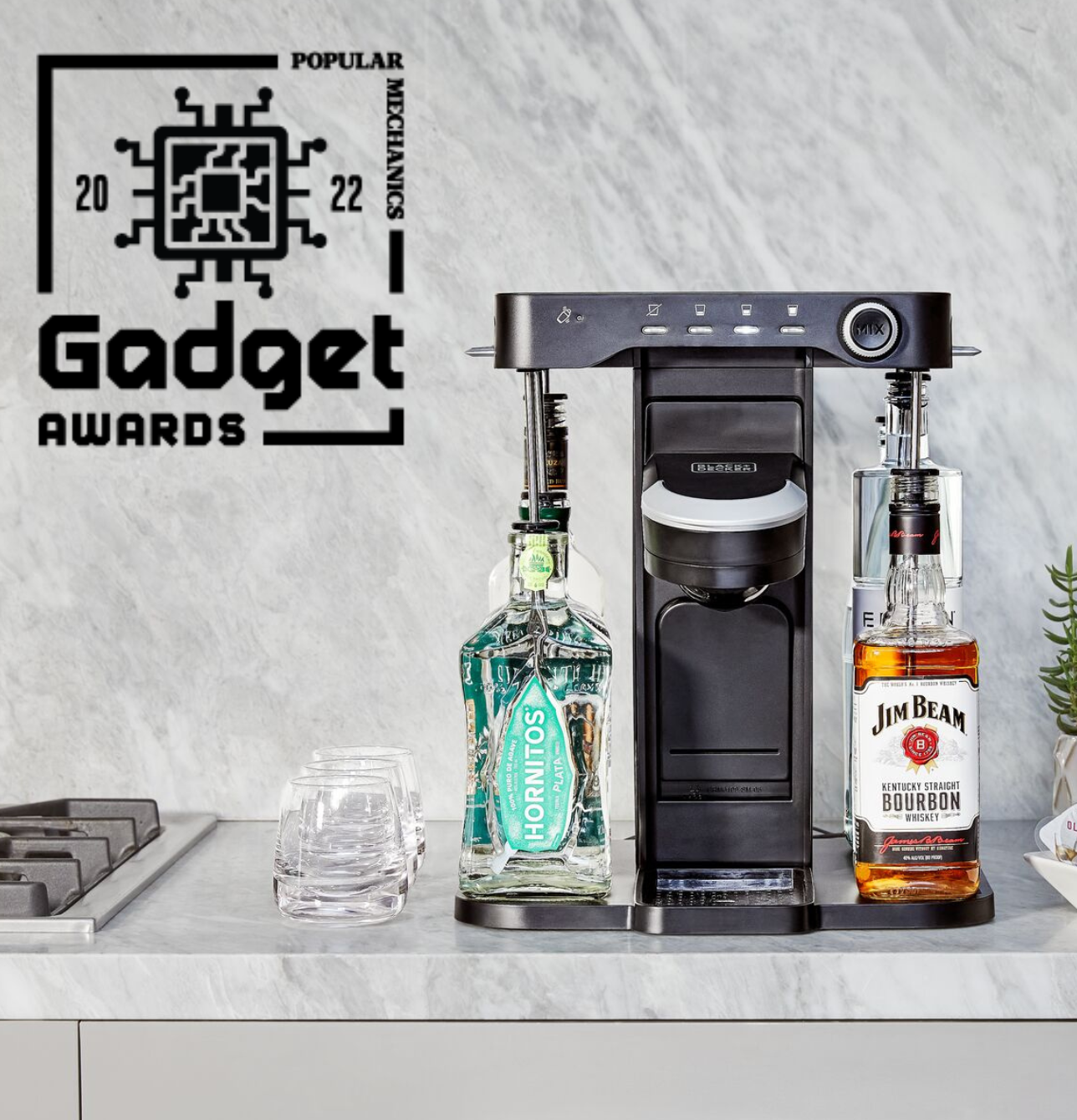 Drinks in 1-2-3
Connect up to 5 standard 750ml liquor bottles. Insert a cocktail capsule, choose your drink strength, press the mix button. Enjoy!
Put your feet up
The bev does it all for you. Cleanup is a breeze, too. All removable parts are top-rack dishwasher safe.

---
BLACK+DECKER® partnered with Bartesian, the creator of the first-ever intelligent cocktail maker, to put our spin on the single serve cocktail maker and bring this technology to market in new retail environments across the country and globe. Meet the bev by BLACK+DECKER™ cocktail maker which exclusively uses mixologist crafted Bartesian® capsules* to make delicious cocktails and mocktails in seconds. *sold separately
The cocktail maker is 12 ¼" wide x 15 ½" tall x 12 1/2" deep fully assembled.
Bottles must be placed in their designated space to ensure the correct drink is dispensed. Names of the liquids (rum, gin, tequila, vodka, whiskey, and water) are located in each spot, indicating the appropriate liquid.
The cocktail maker will fit standard 750ml bottles of liquor.
Your BLACK+DECKER® appliance has been designed to operate over a long period of time with a minimum of maintenance. Continuous satisfactory operation depends upon proper appliance care and regular cleaning. It is recommended to clean the liquid lines of the cocktail maker at least once a month. For cleaning instructions, please consult the manual.
The scanner inside the capsule holder scans the code on top of the capsule. This allows the cocktail maker to pull from the correct bottles so it dispenses the correct drink.
It is recommended that you only put still water in the water bottle.
bev by BLACK+DECKER™ in partnership with Bartesian is all about creating an authentic cocktail lounge experience where cocktails are either served on ice, or shaken/strained over ice. For the best tasting experience, follow shaker indication light on the cocktail machine otherwise serve on ice.
If a bottle runs out of liquid while the cocktail maker is mixing a drink, the cocktail mixer will enter pause mode for 2 minutes to allow you to replace the empty bottle. Refer to the PAUSE MODE section in the manual for more information. Do not turn the power switch (part 14 in the manual) off. Turning it off will reset the mixing process and the cartridge will no longer be able to be used. NOTE: The unit will not flush the lines while the capsule holder lid (part 22) is lifted.
Remove the bottle as described in the REMOVING BOTTLES section in the manual.
Install a new bottle as described in the INSTALLING BOTTLES section in the manual.
Press the mix button (part 26) to resume mixing the drink from where it left off.
Open the lid and clean and dry the barcode scanner.
Ensure the barcode on the capsule is not damaged and is free of water or debris.
Reinsert the capsule and operate the cocktail machine normally.
Discover the full assortment of cocktail capsules on Bartesian.com. You can even sign-up for a subscription, so your cocktail selections are automatically sent to you each month.
Cocktails are crafted to replicate the cocktail lounge experience. Each cocktail's yield is designed to meet the standards of authentic recipes that make use of genuine ingredients. The amount of liquor drawn can be adjusted for each cocktail selecting from mocktail, light, regular or strong which will increase or lessen the overall yield accordingly.
Bartesian capsules do not contain alcohol. This gives you the freedom not only to use the liquor of your own choosing, but bev by BLACK+DECKER™ also allows you to customize your cocktail from mocktail to strong. Bartesian's cocktail capsules contain everything needed beyond the alcohol to make your favorite cocktails—including real bitters, extracts, and juices. This saves you from individually sourcing, purchasing, and storing extra ingredients that often lead to waste.
The dating on the packaging is a presentation guideline that is significantly different from an expiration or safety date. Regrettably, confusion between the two contributes to a significant amount of food waste in North America each year. Bartesian proudly uses genuine juices, bitters, and extract concentrates and avoids the use of artificial colors, fructose, and corn syrups that would negatively impact the quality of our cocktails. Since the genuine ingredients vary by cocktail the dates vary with each selection and can be between 2-8 months from the date of receipt.
What happens after the date? - Beyond the date, there is a chance that over a period of time the presentation may begin to change (the color may slowly darken from the natural sugars, and could potentially taste sweeter) the safety of consuming the cocktail will not have changed.
Notes to extend the presentation date:
1. The dates assume storage at room temperature. If stored in a fridge, you suspend them in their current state for an additional 2 months above the package dating.
2. Capsules can safely be frozen and maintain their presentation for 12 months.
Currently, Bartesian capsules and the bev by BLACK+DECKER™ cocktail maker are only available within North America. Stay tuned for updates and developments on international availability.